Award-winning Luxury Dog-Friendly Holiday Cottages in Cornwall
Get away from it all to a luxurious Cornish escape. Close to the Devon border, these award-winning luxury holiday cottages in Cornwall provide you with the perfect venue for exploring both Cornwall and Devon. Kernock Cottages offers four glorious cottages set in a private estate, each with a private hot tub and Weber gas barbecue.  The cottages are all family-friendly and dog-friendly (and we're great for babies, too!). Each cottage has been awarded the 5* Gold rating by VisitEngland – the highest award in self-catering holiday accommodation. All the cottages are high quality, spacious, comfortable and flexible, sleeping 2, 4, or 6 people (or 10 guests if Owl and Tree are booked together), plus cots and zed beds if you need them. Heather Barn is fully wheelchair accessible (NAS M3a). The cottages won the Gold Award in the Cornwall Tourism Awards 2014/15 for Accessibility, the Silver Award for Best Dog-friendly Accommodation, and were Highly Commended in both the Self Catering Cottages of the Year and Sustainable Tourism categories.  We were finalists in the National VisitEngland Awards for Excellence for 2015 for Accessibility.  We were Dog-friendly Business of the Year in Cornwall and the South West in 2016/17, were awarded the coveted VisitEngland ROSE (Recognition of Service Excellence) Award in 2019, and we hold a Gold Award from GTBS (Green Tourism Business Scheme).
Our Cottages
Dog Friendly Holiday Cottages in Cornwall
It is quite unusual to find luxury cottages in Cornwall which are also dog-friendly, but we have even won awards for it!  Please see our Dogs page for our few basic guidelines to help us keep Kernock Cottages both 5* and dog-friendly  If you are looking for useful information on dog-friendly beaches restaurants, pubs and tourist attractions, you will find it on the Dogs page. There is only a small charge if you would like to bring your dog.  All of the cottages have an enclosed garden.  The Coach House and Owl Barn have fully enclosed gardens around the cottage.  Tree Barn and Heather Barn have a fenced area adjacent to the cottage, so you can have your dog with you while you enjoy the hot tub, without fear of them running off.
Inside the holiday cottages

On holiday you want a bit of privacy, which is why in all of the cottages every bedroom has an en-suite bath or shower room.  Some of the bedrooms are flexible, and can be arranged to suit you – either as king-sized or twin rooms.
The cottages all have individual character, and features include oak, bamboo and Rhodesian teak flooring, beamed ceilings, rugs and a mix of contemporary and antique furniture, paintings and sculptures, making each cottage comfortable and unique.
In every cottage you will find a CD player, radio, iPod dock, flatscreen television with DVD and freeview, radio alarms and hairdryers in the bedrooms, board games and books – everything you need for a lazy day in, or a quiet evening, if you don't want to be out and about.
Outside the cottages
Outside each holiday cottage you'll find a private garden, well-lit terrace, built-in barbecue area and outside furniture.  After a hard day's walking, relax in your private hot tub (let it rain, let it rain…). There are 28 beautiful acres of mature gardens, woodland, paddocks and fields to explore, an adventure playground and trampoline for children, and lots to do locally.  Your dog will love Central Bark – our secure 6-acre dog walking paddock – which has mown paths, a loop through the woods, poo bins, great views over Bodmin, and benches for weary humans.
The cottage kitchens
Each cottage is fully equipped with everything you would expect in a modern kitchen.  In all of our cottages you will find a  dishwasher, washer-dryer, oven, microwave, ceramic hob, fridge, freezer, coffee maker, blender and a wide range of kitchen equipment and cookery books.  There are plenty of pots, pans, serving dishes and casseroles.  If you prefer outdoor cooking, each cottage has a Weber gas barbecue.  So if you love to cook, you have everything on hand.
For babies and toddlers – baby-friendly accommodation & Child Friendly Cottages
Kernock cottages are baby friendly luxury holiday cottages in Cornwall. For babies, we have much more than the usual cot and high chair (see our Baby-Friendly tab for the list of baby equipment), which is all available free of charge.   As a result, you will have a little more space in the boot for you!  Just let us know when you book what you need, and it will be ready in the cottage for you when you arrive.  Babysitting can also be arranged on request if sufficient notice is given.
Accessible Cottages
Heather Barn is fully wheelchair accessible, and is also popular with families with toddlers, and those with older dogs (who love the "underpaw heating"!).  We also have a wide range of useful things that can be used in any cottage which may be helpful, such as hypoallergenic bedding, an induction loop (for hearing-aid users), bed grab rails (for adults as well as children), Elephant's feet, foot stools, and a medication fridge.  Please see our Accessibility page for further information.
Reviews for Kernock Cottages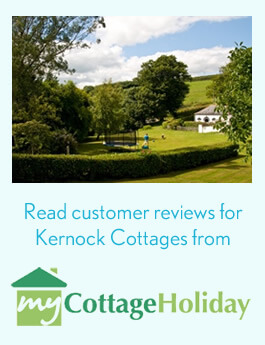 Child-friendly and baby-friendly cottages in Cornwall