Private Hot tubs at Kernock Cottages
If you love hot tubs, you've come to the right place. Each of our four luxury holiday cottages has its own private hot tub in the garden. We chose Shoreline Hydrotherapy hot tubs because of their eco-friendly credentials. Not only do they have energy efficient pumps, low energy LED lighting, very high spec insulation (the covers have an R value of >20) and a heat recovery system, but they also give a carbon offset certificate for 20 years with every tub (paid by Shoreline), so you can soak with a clear conscience. They all have an easy-to-use control panel, continuous filtration, and they also all have a UV system for added protection.  UV filtration means that in addition to the chemical sanitising and mechanical filters, the water also passes through a high intensity UV germicidal light ray which zaps the bugs… kind of an aquatic lightsabre!.  UV is also more environmentally-friendly as it requires lower chemical dosing than hot tubs using chemicals alone. The hot tubs also all have ozonator (which generates "energetic oxygen", another natural purifier, which helps destroy bacteria, viruses, algae and yeasts, and helps reduce the amount of sanitiser required).  We use bromine as the sanitiser. It has a number of advantages over chlorine for use in hot tubs, not least of which is that it tends to be less irritant than chlorine. However, please be aware that some skin can be sensitive to both bromine and chlorine. If you are allergic to bromine we would suggest you don't use the hot tub.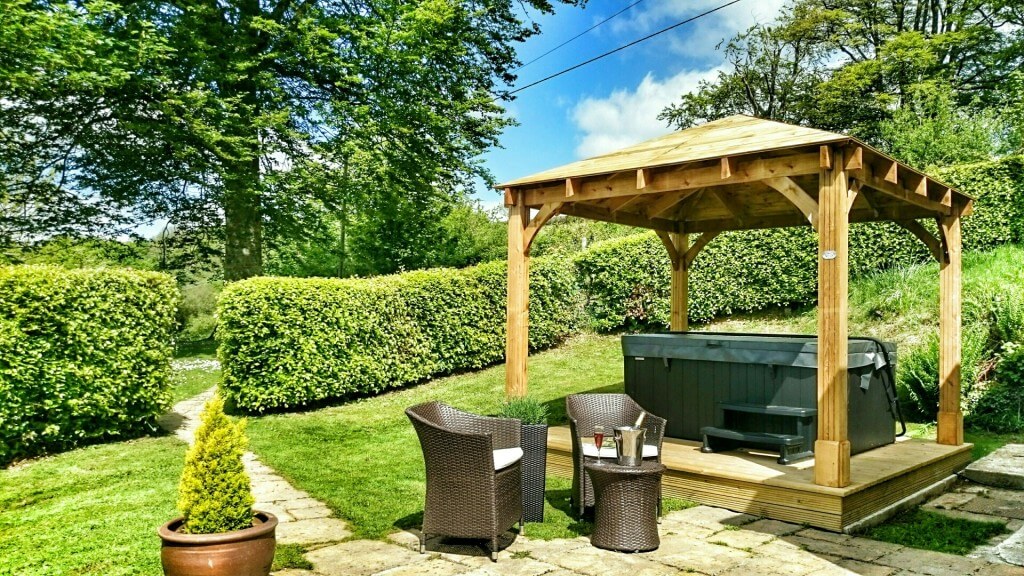 The Hot Tubs
Tree Barn and Heather Barn each have a Gibraltar, which seats 5-6 and includes two full sculptured loungers. The Gibraltar has 3 fountains, multi-coloured LED mood lighting, and a built-in aromatherapy system (cartridges not provided).
Owl Barn has an 8-seater Monterossa tub, which includes two full body sculptured loungers, 76 jets, 3 fountains, multi-coloured LED mood lighting.
The Coach House has a Cannes E hot tub (pictured above), which has 2 reclining seats and a double lounger (seats 4 in total). The Cannes has multi-coloured mood lighting.
Hot Tub Rules (the boring-but-important bit!)
We want you – and the guests after you – to be able to fully enjoy the hot tub. They are a bit like pedigree horses, and do require a bit of gentle handling, otherwise they get upset, which doesn't make for a great hot tub experience (nobody wants to sit in a milky soup… you want sparkly crystal-clear water!). Please also exercise common sense, especially when there are children around. Children under 16 must be supervised at all times when using the hot tubs. For safety (and insurance) reasons, solo bathing is prohibited – please use the "buddy" system, and soak with a friend! Please familiarise yourself with the location of the trip switch (at the rear of the gazebos for Heather, Tree and Owl Barns, and on the back wall of the Coach House. These will cut the power supply to the hot tub, and stop the circulation pumps, which you would need to do as a matter of urgency if – for example – somebody had their hair caught in the pumps (see the Do Not rule on immersing your head underwater). For your enjoyment and safety we would ask you to observe the hot tub dos and don'ts, which will keep it safe and working so the water is always sparkling for you. Please:
DO Shower before using the Hot Tub (To remove oils, creams, perfume etc, which cloud the water and clog the filters and motor)
DO NOT introduce any sand or grit into the hot tub – it kills the pumps, which are expensive, and hard to get hold of, so could mean you would be unable to use the hot tub. If you've been to the beach, please ensure swimsuits and feet are rinsed before using the hot tub. The newly installed warm outdoor shower hose could be used for this.
DO NOT take babies or small children in the hot tub. They are not good at regulating their body temperature, and while the hot tub is about the same temperature as their bath, please remember that – unlike their bath – hot tubs do not cool down, so there is a risk of overheating (which in extreme cases can cause death). Hot tubs also contain chemicals which may irritate their tender skin. Also, nappies and hot tubs are a really bad combination, and small children are not renowned for their bladder control!
DO NOT let your dog in the hot tub. We are very dog-friendly, but not THAT dog-friendly!  And the heat and chemicals are hazardous to them.
DO please use the cover lifter to raise the lid, and please remember to replace the lid after use, pulling the skirt down around the edge. We have cover lifters on every hot tub to make this easier for you. Please lock the cover back in place using the straps so that children can't accidentally access the tub (even if you don't have any yourself… they can be inquisitive).
DO please turn off the waterfall before turning off the hot tub, otherwise it forces water into the covers during the cleaning cycle, making them heavy and less efficient at keeping the heat in.
DO NOT use the hot tub cover as a baby changing mat, trampoline, climbing frame, or otherwise put people – or dogs – on it. The covers are for insulation. They may look solid, but they are filled with polystyrene which is not designed to bear weight, and they deteriorate very quickly if the insulation breaks. They are also expensive, and I'm sure you do not want to have to cough up for a new one!
DO NOT use the hot tub in very windy weather – high winds could rip the covers and lifters from the tub, causing considerable damage. If there is a risk of gales we will strap the covers down with additional protective straps.
DO NOT Use oils, soaps or any detergent in the water.
DO NOT Use glassware in the tub. Quality polycarbonate glasses are supplied for your use in the hot tub. These are NOT disposable, so please don't throw them away – you can put them in the dishwasher.
DO NOT Eat food or Smoke in the tub
DO NOT Introduce mud, stones, sticks, grass, grit etc into the water as grit and mud clogs up the filters and breaks the pumps.
DO NOT Jump into the water or play ball games
DO NOT Sit, stand or lie on the lid of the hot tub at any time
DO NOT Press more than one button at once (or it will be cold next time you want to use it). Use only brief pressure on buttons
DO NOT Immerse your head in the tub, especially if you have long hair. There is a risk that the circulation pump could trap hair, holding your head underwater and presenting a drowning risk. In the unlikely event of this happening, please immediately use the circuit breaker to stop power to the unit, which will stop the pump.
Hot tubs are not designed to be in use for hours at a time.  If you sit in it for hours, or leave the lid off, or add lots of cold water, the water temperature will fall, and no matter how many times you press the temperature button, it won't heat up unless you get out and close the covers and give the heaters a chance to work.  The colder the ambient air temperature, obviously the quicker the hot tub will lose temperature, and the longer it will take for the heaters to raise the water temperature.  This may take several hours, so please bear with it…
CHILDREN UNDER 16 SHOULD NEVER BE UNACCOMPANIED IN THE HOT TUB
and of course … PLEASE DO NOT pee in the water !!
HEALTH WARNINGS FOR ALL HOT TUBS:
Continuously pressing 'Lights' may activate 'Strobe' setting, which can trigger seizures in some people.
Hot Tub water may be set around 40 deg C. It contains powerful chemicals to maintain a hygienic environment, which you may wish to take into account before taking any children in it, especially babies.
NEVER leave children unattended in the vicinity of the hot tub.
ALWAYS ensure the cover is on and locked when you are not using the hot tub.
DO NOT Use the Hot Tub if you are unwell, suffer from heat allergy, are sensitive to chlorine/bromine, or have open wounds.  Hot tub use is not recommended for women during pregnancy.
PLEASE NOTE:
1. You use the Hot Tub at your own risk.
2. We cannot be held responsible for your safety whilst you are using the Hot Tub.
3. You will be held responsible for any damage (please refer to note above about how expensive the covers and pumps are!!!)
4. In the event of high winds or storms being forecast, we reserve the right to strap down the covers to avoid wind damage.  This will mean you are unable to use the hot tub until the wind risk has passed.
RISK ASSESSMENT
| | | | | |
| --- | --- | --- | --- | --- |
| Risk Assessment for Hot Tubs – Kernock Cottages | | | | |
| | | | | |
| Hazards | Hazardous Events/Risk | Controls Required/Considered | Risk Rating | Controls in Place & Location of Guidance |
| | | | | |
| Slip Hazard on Flooring | Decking can provide a slip hazard when wet | Painting of decked areas with anti-slip decking oil.  Regular pressure washing of decking and terraced areas. | Medium | Guests are warned surface can be slippery when wet. The areas are regularly pressure washed and recoated. |
| | | | | |
| Accidental drowning risk | There is always a potential risk of drowning with any activity involving water. Use by small children, solo bathers, intoxicated bathers will all increase the risk | Hot tubs have lockable covers to prevent unsupervised use by children. Use by unaccompanied children, solo bathers, and intoxicated bather is specifically contraindicated. NFU requires solo bathing contraindication. | Low | Hot Tub Rules are provided both online on our website's hot tub page, and laminated in every cottage.  They clearly indicate that children must be supervised at all times, hot tubs should be locked when not in use, and bathers should not bathe alone or under the influence of alcohol. |
| Overheating risk | The water is heated to 38 degrees Centrigrade, and can be increased to a maximum of 40 degrees by the user.  Sustained exposure to high temperature bathing can present a risk to some groups, especially small children, pregnant women, and those with certain medical conditions | Recommend limiting bathing time, especially for children. | Medium | Hot Tub default position is 38 degrees.  Hot Tub Rules include recommendation to limit bathing time to 15 minutes, to avoid use during pregnancy, and not to allow small children to use the hot tub. |
| | | | | |
| Electrical Safety | Electrocution by the unsafe use of electrical devices around the pool area. | No power points have been provided anywhere near the Hot Tub area and an isolation switch is located at the correct distance from the Hot Tub. | Low | Lighting near the Hot Tub is low voltage LED strip lighting controlled via IP67 rated switch. RCD protection (tested) is being used for the supply to the Hot Tub area. |
| Biological | Growth of pathogens due to organic material in spa water | Constant sanitation required. Daily checks on pool sanitation status required. | Medium | Hot tubs are set to continuous filtration (24/7 pumping) – these are checked daily for correct operation. Water is replaced between guests and filters are cleaned. Chemical levels are checked and rebalanced daily to maintain water quality and reduce organic matter. Use of hot tub by young children in nappies prohibited.  UV filters are fitted to all hot tubs, which disrupt the DNA of pathogens such as legionella, cryptosporidium etc |
| Chemical Poisoning | Ingestion of spa chemicals | Safe storage of all chemicals.  In-line dispensing of bromine, in line with HSG282 | Low | No chemicals are stored in the cottages or in the vicinity of the hot tubs.  Bromine (sanitiser) is delivered in-line and not accessible without dismantling the filter site |