Things to do in Cornwall
Scroll down for information on a wide range of activities, from high-adrenalin tree surfing and zipwire flights, to horseriding, walking and cycling. There are also suggestions for things to do with young children.

Horseriding (28mins – 11.5 miles)
TM International – one of only three British Horse Society Approved Training Centres in Cornwall.  Set in a stunning location on Bodmin Moor, you can have a lesson in the sand school or take an accompanied hack on the moors It is adviseable to book at least 1 day before you want to ride – call between 8.30 and 9.30am.
• Access – no wheelchair access (very lumpy terrain!). They do have a number of riders with disabilities though – please call to discuss requirements and suitability.
T 01579 362895 SN PL14 5BP W www.tminternational.co.uk
Walking

Walkers are spoilt for choice in the area. Kernock lies in the Lynher Valley, which is on the edge of the The Tamar Valley Area of Outstanding Natural Beauty (AONB). The AONB is located on the border of Cornwall and Devon, and includes the valleys of the Tamar, Tavy and Lynher.  For further details of the AONB see www.tamarvalley.org.uk. Kit Hill, just outside Callington, offers glorious views over the AONB, and is a great place to blow the cobwebs away. We lie between Dartmoor (www.dartmoor-npa.gov.uk) and Bodmin Moor http://www.visitcornwall.com – Bodmin Moor, a designated Area of Outstanding Natural Beauty, is a beautiful and wild landscape of open hills and rugged tors, with villages and farms in the lower valleys. It is the largest of Cornwall's granite uplands, an area rich in history, archaeology and important conservation sites. OS Maps are available in your cottage.
• Access – there are some great specialist websites with good information on walks in Cornwall. Try www.accessiblecountryside.org or www.walkswithwheelchairs.com/ Cornwall as a good starting point. Several locations including Tamar Trails http://www.tamartrails.co.uk/ and Siblyback http://www.swlakestrust.org.uk/ also do tramper hire, which makes some of the more challenging walks more accessible (although there is wheelchair access around the whole lake at Siblyback, which is a stunning walk).

Cycling
Anyone who can ride a bicycle can discover the very best of South East Cornwall. Cycling is the ideal way to explore the area without disturbing the peace of the countryside. The network of back lanes is ideal for cycling though care is still needed as they are used by motor vehicles as well.
Travelling at bike speed gives you the opportunity to enjoy the sights, sounds and smells of the country at first hand. It is the ideal way for the whole family to explore at their leisure with none of the pressures of parking or traffic congestion.  There are lots of great places to cycle, and the following website has some great routes in Cornwall. http://www.cycle-route.com/routes/Cornwall-Routes-68.html.  Three brilliant cycling locations are Cardinham Woods, Tamar Trails, and Drakes Trail (see details beneath, after Bike Hire)
Bike Hire
Best value bike hire can be found at Resource Bike Hire at Bodmin.  They do a minimum 3-day hire at very attractive prices (3 days adult mountain bike £35, children's from £18).   For shorter periods, see one of the providers below.  Resource also have lots of extra kit to hire, like baby seats, tagalongs, car racks and trailers.  You can collect or drop off any day of the week.  Weekday collections are at the workshop (3 Lucknell Road, Walker Lines Industrial Estate, Bodmin PL31 1EZ), and at weekends it is at the shop (Bodmin Business Park, Launceston Road, Bodmin PL31 2RJ).  Advance booking is essential – call 01208 269296 to book.  Prices and information can be found on their website.  Then pedal off and explore one of the wonderful dedicated cycling areas below!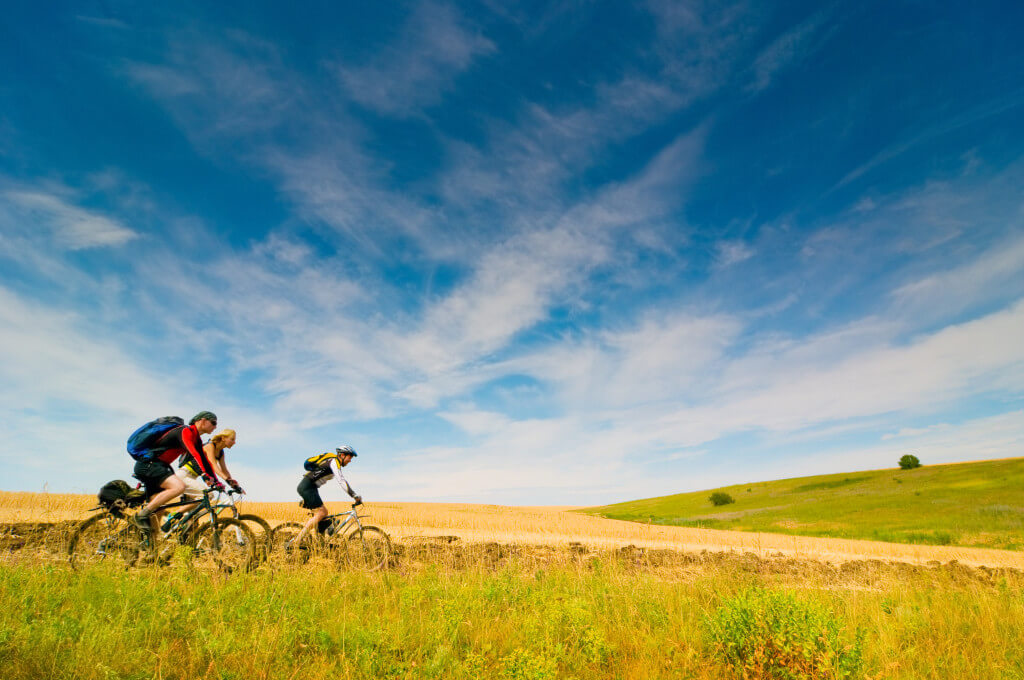 Tamar Trails – Only 12 miles from Kernock, Tamar Trails is 25km of dedicated mountain bike trails in the Tamar Valley AONB.  Take your own bike, or hire one of theirs (£12 for 4 hours). For trail maps, bike hire information and prices, see their website.
 Access – Tamar Trails also has Trampers for hire (all-terrain mobility vehicle), which means everyone can join in the fun!  For tramper hire information, click here
Cardinham Woods is a 650 acre site of productive mixed woodlands owned by the Forestry Commission. There is a cycle hire centre and a 7.2km way-marked cycle trail, and a fantastic café which does great food.  The trail is designed for family groups and is mostly gentle gradients.
• Access – there is disabled access to all the facilities (café etc) and many of the trails are suitable for wheelchair access
T 01208 72577 SN PL30 4AL  W www.1sw.org.uk/experience/cardinham-woods-cycling/
Drakes Trail is a network of walking and cycling trails. The network has something for all age groups and fitness levels, starting with the new off-road cycling section between Tavistock and Plymouth. Cycle hire and Tramper hire available at Marsh Mills (Plymouth)
• Access – tramper hire is available at Marsh Mills.
T (Plymouth Cycle Scene) 01752 257701 W www.drakestrail.co.uk/drakes_trail_routes.htm
Siblyback Lake Country Park (South West Lakes Trust)
Only 14 miles from Kernock, Siblyback provides the backdrop of the gorgeous lake on Bodmin Moor.  There is a graded track around the lake which is dog-friendly and cycle-friendly.  Bike hire is available between April and October, and they also have Tramper hire and Segway here.  For bike and tramper hire, opening hours and rates see their website.
T 01579 346522 SN PL14 6ER W  http://www.swlakestrust.org.uk/l
High Octane Activities
Adrenalin Quarry – Go jump off a cliff!  Adrenalin Quarry offers coasteering, a 500m zipwire, and a giant swing 150-feet up, for the adrenaline junkie in your life.
T 01579 308204 SN PL14 3PJ W  http://www.adrenalinquarry.co.uk/
Treesurfing at Tamar Trails – Check out the forest canopy: "A complex of ladders, rope bridges, zip wires and walkways gives you the freedom to explore our astounding native broadleaf trees from the top down… and all in a designated Area of Outstanding Natural Beauty."
• Access – Treesurfing courses are not accessible, but Tamar Trails does have a Tramper (4WD cross country buggy) which can be used on the trails.  There is wheelchair access to the slipway, but no hoists or specialist equipment, so for canoeing, the individual would need to be able to transfer from the chair to the canoe.
T 01822 833409 SN PL19 8JE W www.tamartrails.co.uk/
Trax & Trails in Callington (01579 370718) experience 4×4 off-road driving, clay pigeon shooting and archery by arrangement.  Phone to book individual or group tuition.
T 01579 370718 SN PL17 8LX W www.traxandtrails.co.uk
Shooting
Lower Lake Shooting Ground ("Cornwall's best shooting school") offers clay pigeon shooting for all abilities. The head coach is a senior CPSA instructor and member of the 2013 England team.
• Access – not suitable for wheelchairs, as the site is on a slope throughout.
T 01579 363301 SN PL14 5BQ W www.shootingincornwall.co.uk
Karting
There is a purpose built karting track about 6 miles away at Kart World near Liskeard (on the A38 just after Menheniot).  Very well organised. .  They have junior karts of 100cc for 8-15 year olds and 200cc karts with a minimum age limit of 16 years.
T 01579 347229 SN PL14 3PJ W www.kartworldcornwall.co.uk
Laser Quest (also indoor karting)
If you fancy shooting each other with no nasty after-effects, then pop down to Laser Fighters battle arena in Ernesettle (8 miles away) where you can run through darkened fog-filled corridors of the "ravaged city" stalking your prey… See website for more details and prices.
• Access – ramp and disabled toilets in the centre. Laserquest is open to wheelchair users, but not the karting.
T 01752 651499 SN PL5 2TT W www.plymouthkarting.co.uk/laser-tag/

Activities for Children
If it is too wet to play outside or go to the beach there are still loads of things to do within easy reach to keep the smalls entertained.
The Tamar Valley Donkey Park (just off the A390 in St Ann's chapel between Callington and Gunnislake) has 25 donkeys and you can also feed and stroke the other animals, including goats, sheep pigs and rabbits.  They have a good indoor soft play area too. You can even adopt a donkey here (open 10.00 daily Easter – end October plus school holidays.  Weekends only in Nov, Dec, Feb and March). Dog-friendly.
T 01822 834072 SN PL18 9HW W www.donkeypark.com

The National Marine Aquarium is the biggest in Britain and the deepest in Europe. It has over 4000 different types of sea creatures, from sharks to the worlds' largest collection of seahorses. There is a walk-through tunnel and a giant coral reef tank, and Britain's only specimen of the giant squid! Open daily 10 am to 6 pm. The aquarium is well signposted. Cross the Tamar Bridge and follow the A38 to Marsh Mills (where you will see a big Sainsbury's), then take the A374 Embankment Road. Follow the signs for the Aquarium and Barbican car park.
• Access – fully wheelchair accessible, with accessible toilets on site. They have a number of wheelchairs onsite for visitor use (1st come 1st served basis). Carers get free entry.
T 01752) 220084 SN PL4 0DX W www.national-aquarium.co.uk
The Monkey Sanctuary near Looe has been home for over 30 years to a colony of woolly monkeys. The sanctuary is an environmental charity, and the monkeys have a specially designed territory of interlinked enclosures set in beautiful woodlands overlooking Looe bay. They have a forest garden where food for the monkeys is grown, a Victorian herbalist garden and a bat cave complete with bat colony. They also have an adventure play are for children. Open Sunday to Thursday, 11am to 4.30 pm from the Sunday before Easter to the end of September. Take the A38 to the Trerulefoot roundabout – then follow the signs for Looe.
• Access – Disabled parking bays in the car park. Accessible loos available in the car park (but not in the sanctuary itself). Not all parts of the sanctuary are accessible. Please ask about discounted rates for guests with limited mobility.
T 01503 262532 SN PL13 1NZ W www.monkeysanctuary.org
Carnglaze Caverns – St Neots, Nr Liskeard. Just off the A38 after Doublebois and Dobwalls this is a complex of 500 million year old slate chambers with a subterranean lake.  Open Monday to Saturday between 10 am and 5 pm, the guided tour takes 45 minutes. Take a jumper and sensible shoes (the ambient temperature in the caves is 10 degrees centigrade and the floor can be slippy). Outside there are wonderful woodland walks including the Enchanted Dell, which has fairies, fountains, mushrooms, tree-houses and even a dragon… One of the caverns – the Rum Store – is used for concerts – the acoustics are apparently amazing. Dogs welcome in the outside areas, on leads.
• Access – much of the site is accessible, but not the lower chambers.  See http://www.carnglaze.com
T 01579 320251 SN PL14 6HQ W www.carnglaze.com
Dartmoor Zoo – Plympton – over 1000 creatures in 30 acres of beautiful Devon countryside, only 3 miles from Plymouth. This is a big cat conservation centre, with lions, tigers, jaguars, cheetahs, leopard, wolves, bears, and many other types of animal.  They have flying displays at the falconry (they also offer falconry courses) including Eagles, Falcons, Buzzards, Owls and Kestrels. Watch the otters being fed, or have a "paws on" experience with a variety of animals – from Tarantulas to Tiger cubs – in the all-weather Talk, Touch, Learn facility. Open daily from 10.00.
• Access – there is a wheelchair-friendly route around the park, and off-road mobility scooters are available to hire. Please note that guide dogs are not permitted, because of the proximity of the paths to the enclosures.
T 01752 837645 SN PL7 5DG W www.dartmoorzoo.org
Trethorne Leisure Park – If you want to wear them out, this is the place to go. Trethorne has 45,000 square feet of indoor soft play structures and animals. These include a 4-storey ball blast arena, rope bridges, slides, tunnels, ball pits, trampolines, bungee runs, go karts, mechanical climbing wall, astra slides and freefall slides and much more (including an 8-lane tenpin bowling). There are opportunities to milk cows and brush miniature ponies, and there are always animals such as alpaca, goats, pigs, chickens etc which can be stroked. They also have picnic areas, which is handy as the food is not great and is expensive! Admission £8.20 for adults or children, under-3's free, family ticket £30.80. Disabled £8.20 with one accompanying carer going free. Just off the A30, 3 miles west of Launceston.
• Access – the majority of the facilities are accessible, and there are accessible toilets. Carers admitted free of charge. See http://www.trethorneleisure.com/accessibility/
T 01566 86324 SN PL15 8QE W www.trethorneleisure.com