Cornwall Luxury Holiday Cottages – Availability & Booking
Check Availability & Prices and Book Your Stay
Your widget will appear here.
To view the price for any cottage, please click on an available start date (any green circle) and request the number of nights you want when prompted. The table will then display the price for your holiday. Most of the year we are totally flexible and do any day start and any duration of stay (though there is a minimum charge for very short stays). You can book online by completing the booking form, or if you would prefer to book by phone our number is 01579 350435.
If you have any questions you can call, email us, or send an instant message using the Messenger icon (blue and white circle) in the bottom right of the screen. Following your booking you will receive an automated confirmation, and also a personal confirmation from us, summarising your booking and payment.
Tariff
The price you pay is all inclusive (plus the fee of £25 per dog) – there are no hidden extras – click here to see what's included.
Short Breaks are available for most of the year (excluding the main summer holidays) and are priced as a proportion of the weekly rate. In the low season there is a minimum rate for 1-2 night stays.
Payment Information
We ask for a deposit of 33% of the price of your holiday, and the balance is payable six weeks before your holiday. We will email you to remind you when the balance is due, and at the same time will confirm things like your preferred bedroom configuration, and whether you need any extras such as baby equipment. If your payment has not been received 42 days prior to the arrival date, we will assume that you wish to cancel. If you book less than six weeks before your arrival, then payment is due in full on booking.
If your preference is to pay by bank transfer, complete the booking and we will send bank details with your confirmation. Alternatively if you opt to pay by credit or debit card then you will be transferred to a Secure Payment Gateway at the time of booking (we are unable for security reasons to take payment over the phone). You may also pay by cheque. If you are booking from outside the UK, you can book and pay by card, or contact us stay@kennockcottages.com for our IBAN details. There is no payment surcharge for any type of payment: debit card, credit card, bank transfer or cheque.
Cancellation
Book with confidence – understand our cancellation policy
Cancellation terms for bookings made from 11 September 2023
Bookings placed from 11 September 2023 will be treated based on the reason for the cancellation, the length of time between cancellation and your holiday, and our ability to re-let the property, as follows:
Your inability (or the inability of any, some or all of your intended occupants) or disinclination to travel to and stay at your hired Cottage for any reason, (including – but not limited to – illness (including Covid), a requirement or recommendation to self-isolate or quarantine, a call to jury duty, incarceration, change in personal or work circumstances, family emergencies, travel delays, vehicle breakdown, and delays with public transport), remain at your risk and do not give rise to a right to cancel or to receive a refund unless we re-let the property, other than according to the sliding scale below. You are strongly recommended to take out UK travel insurance to cover these eventualities. If you choose not to take out UK travel insurance then you accept responsibility for any loss that you may incur due to your cancellation.
Refunds
All refunds will be subject to deduction of a non-refundable administration fee of £100 to cover our costs and third party costs related to the cancellation and remarketing (these costs include our admin costs, re-marketing costs, bank fees, accounting fees and agency fees or commission payments).
A cancellation charge will be made based on the number of days notification of cancellation given by the person making the booking to Kernock Cottages, and whether the cottage is re-let for the period of the cancelled stay. Kernock Cottages will apply the scale shown in the table below to determine the amount of the refund payable to you. If the cottage is not re-let, this will be a percentage of the total cost of the holiday.  If the cottage is re-let, the amount refunded will be the rebooking value (which may be less than you paid) less the non-refundable administration fee of £100. For the purposes of this Condition, the total cost of the holiday shall include any extra items ordered by the Holidaymaker.
Part Cancellations – If any person(s) in your party needs to cancel, this will not affect the total cost of your booking and no refund can be made. In addition, no refunds are payable in the event that you cut short your stay.
Refunds for cancellations more than 6 weeks out will be made within 3 working days of the date of cancellation, which must be in writing (by email). Refunds for cancellations made less than 6 weeks out will be made within 3 working days of the earlier of the rebooking date, or the start date of the holiday (as the refund amount will depend on the rebooking value).
| | | |
| --- | --- | --- |
| Time from Cancellation to Arrival | Cottage not rebooked | Cottage rebooked |
|   | We Refund to you | We Refund to you |
| | | |
| > 6 weeks | Deposit less £100 | Deposit less £100 |
| 36-42 days | 60% of total cost | Rebooking value less £100 |
| 29-35 days | 50% of total cost | Rebooking value less £100 |
| 22-28 days | 40% of total cost | Rebooking value less £100 |
| 15-21 days | 30% of total cost | Rebooking value less £100 |
| 8-14 days | 20% of total cost | Rebooking value less £100 |
| 0-7 days | 10% of total cost | Rebooking value less £100 |
The previous CancelCover insurance scheme is no longer in existence and cannot be made for new bookings. Bookings made up to 10 September under this scheme will still be supported by it.
The historic cancellation terms for bookings made before 11 September are here.
Travel Insurance
We strongly recommend that you take out your own travel insurance for UK holidays which covers booking cancellations, and especially the Lead Guest*. If you choose not to, then you accept responsibility for any loss that you may incur due to your cancellation. This is available at very affordable rates and gives you the peace of mind that you will get your money back if you need to cancel your holiday.
*Lead Guest is defined as the person who makes the booking and the payments to Kernock Cottages, and whose name appears on all the booking forms.
Definitions
Cancellation by You
Cancellations must be immediately notified to us and confirmed in writing, complete with the reason for cancellation.
Cancellation by Us
If we (Kernock Cottages) have to cancel your booking for any reason, including a Force Majeure event, meaning any of the following circumstances which may hinder or prevent the performance by us of the Contract, you will be refunded in full.
(a) acts of God, flood, drought, earthquake or other natural disaster;
(b) epidemic or pandemic;
(c) terrorist attack, civil war, civil commotion or riots, war, threat of or preparation for war, armed conflict, imposition of sanctions, embargo, or breaking off of diplomatic relations;
(d) nuclear, chemical or biological contamination or sonic boom; (e) any law or any action taken by a government or public authority, including without limitation imposing a restriction, prohibition, or failing to grant a necessary licence or consent;
(e) collapse of buildings, fire, explosion or accident;
(f) any labour or trade dispute, strikes, industrial action or lockouts;
(g) non-performance by suppliers or contractors; and
(h) interruption or failure of utility service, and the period of closure covers your booking
Covid Refund Guarantee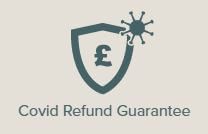 In these uncertain times, it is reassuring to know that if you are unable to travel to take your holiday because of a national or regional Covid lockdown, we will give you a full refund. Please note that the refund guarantee applies only to the address given at the time of booking being put in a regional lockdown, and when the travel restriction coincides with the period of your holiday.  Please also note that this applies only to the address given on the booking by the Lead Guest*, and does not apply if an unidentified party member at a different address is unable to travel due to local lockdown. The refund guarantee covers lockdowns and Tier restrictions, but does NOT cover you (or members of your party) for being unable to travel because you (or a member of your party) fall ill with Covid, or are required to quarantine or self-isolate. These events can be covered by you choosing to take out personal travel insurance. A number of bank travel insurance policies as well as a number of single trip policies include cover for illness with Covid and self-isolation (example links below) or you can look for suitable cover on comparison sites such as GoCompare.  Please see our Cancellation Terms below for further information.
We are not selling, promoting, endorsing or recommending any particular product, and do not benefit financially from, nor have any formal relationship with, any of these providers.  Coverwise , Allianz Assistance , Trailfinders