Eating and drinking locally
In recent times, Cornwall has become something of a foodie destination, and there is plenty of choice of places to eat, from fine dining to pub grub (or stay at home and have a private chef cook for you).  Below is a list (non-exhaustive!) of pubs and restaurants within a radius of about 25 miles, in both Cornwall and Devon.  We have included a note on Access (whether suitable for wheelchairs) on each.  This comes from phoning the restaurant and relies on their information, so it may be worth checking with them if you have an electric wheelchair or a particularly wide one.    We have also indicated those which are dog-friendly (which includes the majority of the pubs in this list), and also the phone number (T), postcode for SatNav (SN), and website address (where available – W) for each, so you can find further information, book, or find your way.  The list first covers some local pubs, then some local restaurants, then some Plymouth restaurants, and then a long list of over 40 dog-friendly pubs over a wide area (with and without food), so there should be something for everyone.  Cheers and bon appetit!
Pubs
The Local is the 12th century (allegedly) Weary Friar in Pillaton. The pub is in the village, Pillaton – turn left at the top of the drive and keep going – it is about half a mile (just past the church), so is only about a 15 minute stagger home on foot if you want to walk it – but don't forget to take a torch! The Weary serves bar-type food (lunch and evening) and also has a restaurant.  They also do a limited take-away menu (fish & chips, burgers and pizzas).  They do a good selection of guest ales for beer lovers. They are fairly child friendly if you want to eat there – high chairs etc and a childrens menu. Booking is recommended as they are very popular.
• Access – there is a ramp into the bar around the side on the deck. However, the toilets are NOT accessible, which may somewhat curtail the beer consumption!
T 01579 350238   SN PL12 6QS   W www.wearyfriar.co.uk

The Rod & Line – Tideford – a great traditional pub, with massive open log fire in the winter. Not fancy in the slightest, but great food cooked fresh – crab and shellfish a speciality. A very popular, real local pub, which often has live music (especially on Friday nights). Dog-friendly.
• Access – There are large steps up to the pub from the road, and the (outside) toilets are not wheelchair-friendly.
T 01752 851323   SN PL12 5HW   W https://www.facebook.com/pages/Rod-And-Line/
The Who'd Have Thought It at St Dominick (4 miles) – Great food, very friendly service, and lovely gardens. A good selection of draught ales
T 01579 350214   SN PL12 6TG    W https://www.whodcornwall.co.uk
The Rising Sun at Botus Fleming (go to Hatt, and straight over the roundabout and down the track) does a good selection of local beers. No food, but a proper traditional pub.
• Access – wheelchair accessible with accessible loos.
T 01752 842792   SN PL12 6NJ   W none – but check Trip Advisor
The Royal at Horsebridge – 15th Century traditional pub with real ales, good quality simple home-cooked food, with a decent, moderately priced wine list. (nb. apparently they don't take under-14's in the evenings).
• Access – there is a ramp at the back (with parking there too) that wheelchairs can use to access the pub.  Unfortunately the loos aren't accessible.
T 01822 870214   SN PL19 8PJ   W www.royalinn.co.uk/
Church House Inn – Linkinhorne. For a real village feel, try Sunday lunch here.  Very good value and friendly. The church itself is very ancient, having been gifted to Launceston Priory by King John in 1199. It boasts medieval wall paintings and a 13th century font of Polyphant stone.
• Access -two steps down to get into the bar, so not suitable for wheelchairs.
T  01579 363631   SN  PL17 7LY   W none
The Notterbridge Inn (at… Notter Bridge) is good if you want a pub with a big garden for the children on a nice day.  The gardens overlook the river, however please note it does get very crowded in summer. Dogs allowed in the bar only.
• Access – restaurant is accessible and there is an accessible loo.
T 01752 842259   SN PL12 4RW   W www.thenotterbridgeinn.co.uk
Restaurants

The Springer Spaniel – Treburley (11 miles) – Multi-award-winning pub, serving "proper food, cooked proper", using seasonal local produce and at very reasonable prices.  The Good Pub Guide's Dining Pub of the Year for Cornwall 2017 (again), and Best Gastro Pub in Cornwall 2015 award among others… they're going to need a bigger mantle piece soon!  Very dog-friendly.
• Access – the lower part of the restaurant is wheelchair-friendly, but the loos are upstairs, so inaccessible for a wheelchair.
T  01579 370424   SN PL15 9NS   W www.thespringerspaniel.org.uk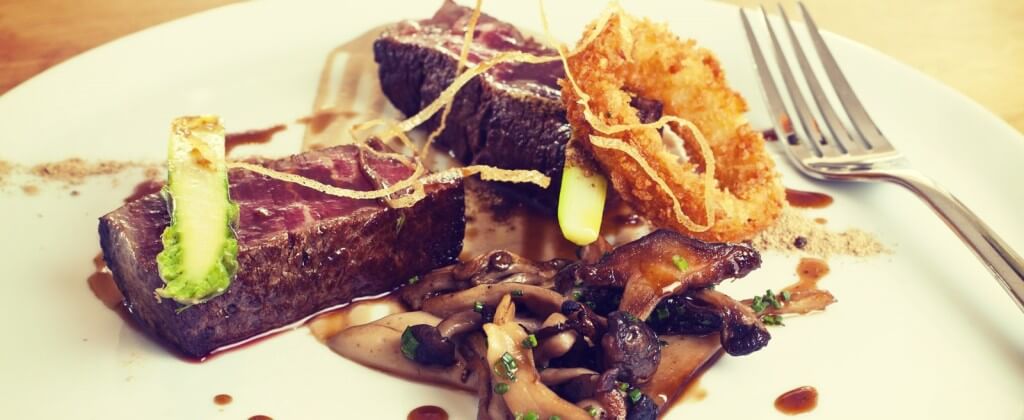 Heskyn Mill  – Open for both lunch and evening meals, and only15 minutes drive from Pillaton. Won Gold 'Taste of the West – South West England in 2017. Picturesque setting and atmospheric interior with the original Mill workings on display. Friendly service, the husband and wife team pride themselves for their promotion and use of fresh locally sourced produce.
• Access – there is ground floor dining as well as seating upstairs. They are wheelchair accessible and and also have a disabled toilet.
T 01752 852 127 SN PL12 5BG W www.heskyn-mill.co.uk
The View – for simple but perfectly cooked very fresh food and spectacular views, try The View which is perched on the cliff overlooking Whitsand Bay. They use local produce and the menu changes daily depending on what is in season and available.  Beautifully executed and very reasonable (lunchtime starters GBP 5.00-8.00; mains GBP 15.00-19.00) this is well worth a detour for either lunch or supper (but it does get very booked up in the summer).  Open Wednesday to Sunday. About 30 minutes drive.
• Access – there is a flight of steps up to the restaurant, and as such it is unfortunately not suitable for wheelchairs.
T 01752 822345   SN PL10 1JY   W www.theview-restaurant.co.uk
The Horn of Plenty, Gulworthy – If you have a celebration or just want a treat, try this award-winning 2 AA rosette restaurant, which is set in stunning scenery overlooking the Tamar Valley. It's 12 miles away (about 20 minutes).
• Access – there is a ramp for wheelchair users via the kitchen – please call in advance to arrange.  Once inside the ground floor is all on the level, and there are accessible loos on the ground floor.
T  01822 832528    SN PL10 1JY   W www.thehornofplenty.co.uk
The Cardinal's Hatt – if you don't want to stray too far, try the Cardinal's Hatt just down the road at Hatt.  It had a complete overhaul (and name change) a couple of years ago, and is now a bright, airy, modern space with a good range of choice on the menu.
• Access – fully wheelchair accessible with accessible loos.
T  01752 845888   SN PL12 6PJ   W www.thecardinals-hatt.co.uk
Louis' Tea Rooms, Kitt Hill – with panoramic view over the Tamar Valley AONB and set within the Kit Hill Country Park, this is a great place to go for an all-day breakfast with a view before (or after) blowing away the cobwebs with a walk on the specataular Kit Hill.
• Access – Wheelchair accessible with accessible toilets.
T 01579 389223   SN PL17 8AX   W http://louistearooms.weebly.com
The Who'd Have Thought It at St Dominick.  Traditional country pub serving well made pub classics, with a changing board of seasonal specials.  Several local draught ales on tap, and an extensive gin menu. Open daily, but no food on Mondays.  Restaurant is wheelchair accessible, but the loos are not, which may limit the beer consumption!
T  01579 350214    SN  PL12 6TG   W https://www.whodcornwall.co.uk
The Old Plough at Bere Ferrers – not that easy to get to, but a pub-restaurant with good views in a picturesque village which serves good beer and well-prepared simple food. Dog-friendly.
• Access – the restaurant is accessible, but there are 3 steps down to the toilets.
T 01822 840358   SN PL20 7JL   W www.theoldeploughinn.co.uk
Plough on the Quay in Looe.  The restaurant is in a lovely position overlooking Looe harbour, and specialises in freshly caught fish.  They always have some non-fish items on the menu, such as Cornish lamb, for those whose palate doesn't extend to things that live in water!. Open 7 days a week in the summer
• Access – the restaurant has a wheelchair-accessible ramp, but beware – the toilets are upstairs.
T 01503 263593   SN PL13 1AH   W http://www.ploughonthequay.co.uk
The Sardine Factory (Looe) – Award-winning Chef Benjamin Palmer returned to his home town of Looe to open The Sardine Factory Restaurant in July 2018. Bang opposite the fish market in Looe, ingredients don't get much fresher or much more local than this, and the staff are very friendly and efficient.  They do have non-fish offerings too. Open Wednesday to Sunday, 12-3 and 6-9pm.
Access – the restaurant has a lift, and accessible loos.
T 01503 770262    SN PL13 2BX     W http://www.thesardinefactorylooe.com
The Cornish Arms  (Tavistock) – Fabulous food and regularly wins a slot in the top 20 gastro pubs in the country. Classic combinations – with big hearty flavours. The bar is dog-friendly, and their lovely outside seating area (but not the restaurant).
• Access – fully wheelchair accessible, with accessible toilets in the restaurant.
T 01822 612145   SN PL19 8AN   W www.thecornisharmstavistock.co.uk
The Blue Plate (Downderry) – Restaurant, bar, cafe and deli, with a stylish dining room and yummy food.  Relaxed atmosphere, and the freshest of fish. Open Wednesday to Saturday 10-10, Sundays 11-5pm.
• Access – fully wheelchair accessible with accessible loos.
T 01503 250308   SN PL11 3LD   W www.blueplatecornwall.com/
Plymouth has lots of great restaurants these days, from the historic waterfront hustle of the Barbican (www.barbicanwaterfront.com/eating-out), to the newly developed Royal William Yard, a few of which are listed below (with regard to Accessibility, as Royal William Yard is a new development, the restaurants are all accessible, with accessible toilets).
We are big fans of Japanese food, and a couple of restaurants we would recommend are:
Yukisan – for a more traditional Japanese dining experience.  Great food and excellent value.
T 01752 250240     SN PL1 2AG     W http://www.yukisan.co.uk
Kuku – "Contemporary Japanese cuisine". – Beautifully presented food.  Their taster menus (minimum 4 guests) are fantastic value, but they also have a normal menu.
T 01752 255579     SN PL1 2EU     W http://www.kukuplymouth.co.uk
Royal William Yard Restaurants, Plymouth (30 mins drive: 12.2 miles)


With Its Grade 1 listed former Naval buildings and stunning views over the waterfront, Plymouth's Royal William Yard is fast becoming one of the most stylish places to dine in the city.  Parking is central, and the restaurant area is pedestrianised.  There are lots of restaurants here, a few of which are shown below. The Postcode for parking for SatNav is PL1 3GD.
Bistro Pierre – modern French cooking in a historic building in a stunning location.  Dogs welcome in the bar area.
• Access – fully accessible, with accessible toilets.
T 01752 262318   SN PL1 3GD   W http://lebistrotpierre.co.uk/locations/plymouth
Prezzo – modern Italian chain (pasta, pizza) on the waterfront, with great views.
• Access – fully accessible, with accessible toilets
T 01752 261120   SN PL1 3GD   W http://www.prezzorestaurants.co.uk/restaurant/plymouth
Seco Lounge – an eclectic menu (tapas, burgers, brunch) in a great waterfront location with lots of outdoor seating (they only take bookings for parties of 8 or more, otherwise it is a walk-in policy).
• Access – fully accessible, with accessible toilets.
T 01752 229375   SN PL1 3GD
Wagamama – Japanese ramen noodle bar.  OK, it's a chain, but it's quick and it's tasty and they do it well, and sometimes that's what you need!
• Access – fully accessible, with accessible toilets.
T 01752 663200   SN PL1 3QQ   W http://www.wagamama.com/restaurants/plymouth
The Barbican restaurants, Plymouth (30 mins drive: 12.1 miles)
Plymouth Barbican is home to Britain's maritime heritage – the place from where Sir Francis Drake sailed to defeat the Spanish Armada, and from where the Pilgrim Fathers sailed to settle the New World.  These days it is home to many restaurants, bars and cafes providing cuisines from across the globe – modern European, Japanese, Chinese, Indian…below is a link to the Barbican Waterfront restaurant guide website, but it is worth a wander around, a mooch in the art galleries, and stopping to eat where you fancy.  W http://www.barbicanwaterfront.com/eating-out/. Because of the historic nature of the Barbican, and the cobbled streets and ancient buildings, there are fewer accessible dining opportunities than at the Royal William Yard.
Other Plymouth restaurants – If you like a bit of history with your (excellent) supper, then try the Artillery Tower in Plymouth, which is set in one of the oldest military buildings in the city. Their 3-course dinner is £36.50 a head. Lunch is £21 for 2 courses or £25.00 for 3 courses.
• Access – the restaurant is wheelchair accessible, but the toilets are not.
T 01752 257610   SN PL1 3QR   W www.artillerytower.co.uk
Rock Salt – "contemporary all day café brasserie" with great food in a not-so-great area (Stonehouse Street).The food makes up for it though!
• Access – you can get a wheelchair in, but the loos are upstairs.
T 01752 225522   SN PL1 3PE  W www.rocksaltcafe.co.uk
On the way (here or back home!)
Riverford Field Kitchen – From the people who bring you the organic veg boxes… stop off on the way home (or the way here) at their farm in Buckfastleigh, Devon, and enjoy a farm tour followed by a spectacular lunch in their Field Kitchen (Gordon Ramsey said of it "I thought it was going to be good, but not that good"). 01803 762 074 www.riverford.co.uk.  Access – there is dedicated disabled parking, level entry through double doors, and accessible loos.
Tel: 01803 762074   SN: TQ11 0JU   Web: www.riverford.co.uk/restaurant
Dog-friendly pubs

Below is a list of pubs within a 30 mile radius that welcome dogs. This covers Cornwall out to Bodmin, and Devon out to Tavistock and Dartmoor, and includes Plymouth. Distances from Kernock have been calculated using the AA Route Planner. Some have fantastic award-winning food, many have fabulous views, and they all welcome dogs. The list isn't exhaustive, but we have tried to give a good selection so that you will find something whether you are on the beach for the day, walking on the moors, or just driving round the lanes. As with the restaurants, the access information was provided by the pubs themselves, so if you need any further information then please check with the individual venue.
3.5 Miles
Saltash – The Crooked Inn
Very dog friendly and super food. Dogs welcome in the bar, lounge and conservatory as long as they are kept on a lead.
Access – you can get into the restaurant (but it is quite narrow), but the toilets are not accessible.
T 01752 848177   SN PL12 4RZ   W www.crooked-inn.co.uk/
5.4 miles
TIDEFORD – The Rod & Line
– A great traditional pub, with massive open log fire in the winter. Not fancy in the slightest, but great food cooked fresh – crab and shellfish a speciality. A very popular, real local pub, which often has live music (especially on Friday nights). Dog-friendly.
Access – There are large steps up to the pub from the road, and the (outside) toilets are not wheelchair-friendly.
T 01752 851323   SN PL12 5HW   W www.facebook.com/pages/Rod-And-Line
7.3 Miles
ST GERMANS – The Eliot Arms
Very welcoming. Happy to accommodate well behaved dogs in the bar area. Water bowls supplied at every table in the beer garden. "Food excellent and great value".
Access – the pub is accessible, but there are no accessible toilets.
T 01503 232733   SN PL12 5NR   W www.staustellbrewery.co.uk/pub/saltash/eliot-arms
9 Miles
GUNNISLAKE – The Rifle Volunteer Inn
Located in a small village with panoramic views over Tamar Valley and North Dartmoor. They offer a friendly and warm welcome to children, dogs and their owners. There is an outside balcony where you can enjoy stunning views and a small garden safe for children and dogs. Dogs welcome in the bar and there is also a designated area – Pugh's Corner – for dining with your dog.
Access – the pub is accessible and has an disabled toilet.
T 01822 833038   SN PL18 9HL   W www.theriflevolunteer.co.uk
11.4 Miles
TREBURLEY – The Springer Spaniel
– Totally fantastic food. This was taken over in 2014 by chef patron Anton Piotrowski, whose other restaurant (the Treby Arms in Sparkwell) was awarded a Michelin star in 2014.  We're talking serious food here, at very reasonable prices. Very dog-friendly.
Access – the lower part of the restaurant is wheelchair-friendly, but the loos are upstairs, so inaccessible for a wheelchair.
T 01579 370424   SN PL15 9NS   W  www.thespringerspaniel.org.uk
11.5 Miles
DOWNDERRY – The Inn on the Shore
Dogs are allowed in the bar and outside, but not in the restaurant. You can eat in the bar, but best to reserve a table if the weather is iffy, as there are limited tables in the bar are.
Access – the bar is accessible, but there are steps down to the restaurant. No accessible loos.
T 01503 250027   SN PL11 3JY   W www.inn-on-the-shore.co.uk/
12 Miles
SEATON – The Beach House – very dog friendly downstairs. Right on the seafront, with panoramic views and a fantastic outside space too.  They serve food, but are also happy if you just want a hot chocolate to warm after a walk on the beach.
Access – the bar downstairs is accessible, and there is an accessible loo, but the upstairs restaurant isn't accessible.
T 01503 250065   SN PL11 3JD   Facebook @thebeachhouseseaton
12 Miles
SEATON – The Smugglers Inn
You can eat and drink in the bar area. Local walks nearby through nature reserve and along coastal path. Beach is dog friendly. Pub has outside terrace with chairs and tables. Dog water bowls situated at all tables.
Access – there is a ramp to get into the building, and there are accessible toilets.
T 01503 250056   SN: PL11 3JD   Web: http://thesmugglersinn-seaton.weebly.com/
18.7 Miles
BUCKLAND – The Drake Manor Inn
Address: Buckland Monachorum, Yelverton, Buckland,
A stunning little pub in the main village of Buckland monachorum. Dogs are welcome in the bar and garden. Really good regular menu and daily specials and a fine selection of real ales. Lots of moorland walks nearby. nAccess – The pub is accessible, and has an accessible toilet.
T 01822 853892    SN PL20 7NA    W www.drakemanorinn.co.uk
9.7 miles
LISKEARD – The Crows Nest Inn
A visit to the Crows Nest is a bit like stepping back in time.  Hot food and bar snacks at lunchtimes and restaurant food in the evenings. Dogs welcome in the bar but not the restaurant. Great food reviews on Trip Advisor.
Access – the bar and restaurant are fine for a standard size wheelchair (but not some of the bigger ones, so do check), but the loos are not accessible.
T 01579 345930   SN PL14 5JQ    W http://www.staustellbrewery.co.uk/pub/liskeard/crows-nest-inn
18.7 Miles
TORPOINT – The Edgecumbe Arms
Very dog friendly throughout and they welcome any well behaved dog everywhere except a tiny restaurant section. Cracking food and space to eat both inside and out. Regular 10 minute ferry from Admiral's Hard Plymouth. Gets busy quite often so worth booking but you also have Mt Edgecumbe park on your doorstep for dog walks.
Access – there is a wheelchair accessible door, and accessible toilets.
T 01752 822294   SN PL10 1HX   W www.edgcumbearms.co.uk
12.1 Miles
PLYMOUTH – The Eagle
No-frills pub in the middle of Plymouth City centre the'll let you bring the dog in especially on a hot day.
Access – there are two small steps up into the pub. There is an accessible toilet.
T 01752 266158   SN PL1 1NJ   W http://www.visitplymouth.co.uk/eating-out/the-eagle-p1423833
11.2 Miles
PLYMOUTH – The Fortescue
A very friendly local pub with 8 Real Ales every day. Food only served on Sundays but dogs welcome.
Access – Several steps up to get into the building, and the ladies loos is down a steep flight of stairs.
T  01752 660673   SN PL4 6JQ   W www.facebook.com/fortescuehotel?rf=118927074829618
11.5 Miles
MINIONS – The Cheesewring Hotel
Very dog friendly, up on the moors.
Access – the hotel is wheelchair accessible, and has an accessible toilet.
T 01579 362321   SN PL14 5LE   W http://cheesewringhotel.co.uk/
16.4 Miles
GRENOFEN – The Halfway House Inn
A warm welcome for both the owner and dog. Dogs even get a treat as well. Very accommodating and fabulous food and great value. Lovely beer garden and some wonderful walks. Just on the edge of Dartmoor. Real ales superb, and good selection of wines. "A real find".
Access – no problem getting a wheelchair into the bar area, but there are no accessible loos.
T 01822612960   SN PL19 9ER   W www.thehalfwayhouseinn.org
13.4 Miles
PLYMOUTH – The Ship
Smart, large, nautical themed pub right in the middle of the Barbican in Plymouth. Apparently the "best fish & chips in the UK"!  Good food reviews. Seating outside overlooking the quay.
Access – the pub is wheelchair accessible, and there are accessible loos.
T 01752 667604   SN PL1 2JZ    W theshipplymouth.co.uk
16.9 Miles
KINGSAND – The Rising Sun
Friendly pub with good food.  Dogs welcome.
Access – no problem getting a wheelchair into the pub, but there are no accessible loos.
T 01752 822 840    SN PL10 1NH   W – none: check latest reviews on Trip Adivisor
17 Miles
KINGSAND – The Devonport Inn
A lovely gastro-pub with a French chef-patron Jerome. In a stunning setting overlooking the sea. Very dog friendly both inside and out. "Outstanding food at very good prices for the quality including fresh fish, and delicious puddings". Bookings advised.
Access – the pub is accessible, and has accessible toilets.
T 01752 822869   SN PL10 1NF  W www.devonportinn.com/
16.4 Miles
TAVISTOCK – The Whitchurch Inn
Well-known for its steaks (all sourced from locally-reared Dartmoor steer). Dogs welcome in the walkers' area of the bar.
Access – there are a couple of steps 3-4" high to get into the building, and there are no accessible loos.
T 01822 612181   SN PL19 9ED   W www.whitchurchinn.co.uk/
15.8 Miles
DULOE – The Old Plough House Inn
Strong foodie reputation.  Dogs welcome throughout. Friendly and helpful staff. Good food and drink.
Access – There is a ramp to the front entrance and another to the restaurant, but the toilets aren't accessible.
T 01503 262556   SN PL14 4PN  W www.ploughduloe.co.uk
16 Miles
EAST LOOE – The Ship Inn
A great dog friendly pub in the heart of Looe. Good pub food served too!
Access – the building is accessible, but there are no accessible loos.
T 01503 263124   SN PL13 1AD  W – see Trip Advisor
16.4 Miles
EAST LOOE – Ye Old Salutation Inn
An olde worldy pub with low ceilings, flagstone floors and dogs welcome while you eat.
Access – there is a ramp at the back door.  Loos are not specifically "accessible" but they do have a very big cubicle which "should be able to take a wheelchair".
T 01503 262784   SN PL13 1AE   W – none
17.5 Miles
LOOE – The Jolly Sailor Inn
Traditional real ale pub. Doesn't do food. Dogs welcome in the bar.
Access – a small narrow pub, with a couple of shallow steps up. There is a downstairs loo, but it isn't accessible.
T 01503 263387   SN PL13 2EP   W jollysailorlooe.co.uk
18 Miles
PELYNT – The Jubilee Inn
Dog friendly and horse friendly too. Space to rest horses while riders have a coffee etc. Well behaved dogs are allowed in the main bar areas, patio and beer garden. Must be on lead. Among other things, they serve Alpaca sausages, and also have Gluten-free menu options.
Access – the pub is wheelchair-friendly, and there is an accessible loo.
T 01503 220312   SN PL13 2JZ   W www.jubilee-inn.co.uk
18.4 Miles
TAVISTOCK – The Peter Tavy Inn
The Peter Tavy Inn is on the edge of Dartmoor in west Devon. Very dog friendly and will provide dogs with water and biscuits.
Access – they can put a ramp up to the back door to get over the steps.  One part of the bar is on the entry level, and is fine for wheelchairs, but the rest is up a couple of steps.  If booking, mention if you need to be in the lower part. No accessible toilets.
T 01822 810 348   SN PL19 9NN    W www.s210409887.websitehome.co.uk
15.4 Miles
HEMERDON – The Miners Arms
Lovely pub in a beautiful setting on the edge of Dartmoor. Friendly and efficient staff.
Dogs welcome in the bar and pub garden. Children also welcome!
Access – the pub is wheelchair accessible, but there is no accessible loo.
T 01752 336040   SN PL7 5BU  W www.theminersarmspub.co.uk
15 Miles
MARY TAVY – The Mary Tavy Inn
Family and dog friendly pub situated on the A386 which links Okehampton and Tavistock. Right on the edge of Dartmoor and a few minutes drive from the pub gives you loads of places to walk your dog(s). Dogs welcome in the bar, where you can eat either from the bar menu or a la carte.
Access – no problem with accessing the restaurant through the front door, but the toilets are upstairs and are not accessible.
T 01822 810326   SN PL19 90PN  W www.themarytavyinn.com
21 Miles
POLPERRO – The Three Pilchards
This harbourside pub has a good choice of very well kept ale and a bowl of water and a choice of biscuits offered on arrival. Fresh fish and seafood a speciality.
Access – the pub is accessible. The loos onsite are not accessible, but there are public toilets with an accessible toilet very close to the pub.
T 01503 272233   SN PL13 2QZ   W www.threepilchardspolperro.co.uk/
21 Miles
POLPERRO – The Blue Peter Inn
Walkers with wet doggies welcome! Log fires to dry off while you eat, drink and soak up the friendly atmosphere. Children also welcome, designated area upstairs, dogs welcome there also. On the quay side, fall out the door onto the beach or walk the coastal path in whichever direction you choose.
Access – the entrance to this 500-year old building is up steps, so not wheelchair-friendly.
T 01503 272743   SN PL13 2QZ  W www.thebluepeter.co.uk
18.7 Miles
LIFTON – The Arundell Arms
This hotel and pub love dogs. It is a fishing hotel in the summer (they own stretches of the Tamar and Lydd Rivers) and a hunting one in the winter. They have a pretty garden or a nearby village green that your dog can play in as you tuck into a superb meal. Very good food. Has won loads of foody awards and has 2 AA rosettes.
Access – the pub and restaurant are wheelchair accessible (they put a ramp up), and there are accessible loos.
T 01566 784666   SN PL16 0AA  W www.arundellarms.com
20 Miles
HORNDON – The Elephant's Nest
Lovely old pub on the edge of Dartmoor, very comfortable and good reputation for food. Dogs welcome. They have a local walks guide on their website if you want to walk then eat…
Access – they have ramps they can put up to enable wheelchairs to get into the pub, but they don't have wheelchair-accessible loos.
T 01822 810273   SN PL19 9NQ   W www.elephantsnest.co.uk
35.7 Miles
ST BREWARD – The Old Inn
Lovely pub, just off the moor. Dogs welcome in one of the bars and in the garden where water is available.
Access – wheelchair access is via a ramp at the back entrance, and there are accessible loos.
T 01208850711   SN PL30 4PP  W www.theoldinnandrestaurant.co.uk
22.4 Miles
NOSS MAYO – The Ship Inn
Traditional waterside pub. Very relaxed. Dogs are more than welcome in the downstairs bar.
Access – an interesting one, as it depends on what the tide is doing!  The front entrance is accessible, but not at high tide (as it is then underwater…). The rear entrance has steps. There is an accessible loo. Just watch you don't get stranded!
T 01752 872387   SN PL8 1EW   W www.nossmayo.com/
24.6 Miles
PRINCETOWN – Plume of Feathers Inn
This pub is in the middle of the Dartmoor National Park. Not only do they allow dogs but they also have a dog menu with doggy sausages, carvery titbits and doggy chews! Owners may prefer to eat from their impressive human menu. They carry a wide range of traditional ales (CAMRA approved).
Access – wheelchair accessible.
T 01822 890240   SN PL20 6QQ   W www.theplumeoffeathersdartmoor.co.uk/
24.6 Miles
NR PRINCETOWN – Two Bridges Hotel
Bang in the middle of the Dartmoor National Park. Dogs allowed in the bar & lounge areas.
Access – wheelchair accessible, with accessible facilities.
T 01822 892300   SN PL20 6SW   W www.twobridges.co.uk
22.5 Miles
PRINCETOWN – Fox Tor licensed Cafe
Well behaved dogs on a lead welcome inside though there are tables outside as well if you wish.
Open fire and log burner for chilly days! Coffees, cakes, brunches and sandwiches.
Access – steps up both front and back, so not wheelchair-friendly
T 01822 890238   SN PL20 6QS   W www.foxtorcafe.com